Best Immigration Consultant in Bangalore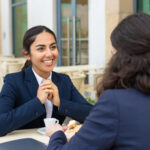 AICS Immigration, your reliable partner for all your immigration needs in Bangalore. With a proven track record of assisting countless individuals and families in realizing their dreams of moving abroad, we take pride in being one of the leading immigration consultants in the city. Our commitment to excellence and customer satisfaction sets us apart, making us the preferred choice for immigration services in Bangalore. Whether you seek to study, work, reunite with family, or invest in a foreign country, our comprehensive range of visa services is tailored to meet your specific requirements. Discover why choosing AICS Immigration will make your immigration journey smooth and successful.
Why Choose AICS Immigration?
Expertise and Experience
With years of experience in the immigration industry, AICS Immigration boasts a team of seasoned consultants who are well-versed in the intricacies of immigration processes. Our consultants have an in-depth understanding of various visa categories, immigration regulations, and policy changes, ensuring that your application is handled with precision and accuracy.
Comprehensive and Personalized Approach
At AICS Immigration, we believe in providing a personalized approach to every client. We take the time to understand your unique goals, preferences, and circumstances, tailoring our services to meet your specific needs. Our consultants offer one-on-one guidance at every step of the process, ensuring that you are well-informed and confident throughout your immigration journey.
Wide Range of Visa Services
As a full-service immigration consultant in Bangalore, AICS Immigration offers an extensive range of visa services to cater to diverse immigration goals. Whether you seek study permits, work visas, family sponsorship, permanent residency, investor visas, or visitor visas, our comprehensive portfolio covers it all.
Transparency and Ethical Practices
Ethics and transparency form the core of our business values. We believe in honest and open communication with our clients, keeping them informed about every aspect of their application. Our consultants follow strict confidentiality measures, ensuring that your personal information is safeguarded throughout the process.
Success-Oriented Approach
AICS Immigration is committed to your success. Our consultants diligently work to maximize your chances of a positive outcome by crafting strong applications and providing strategic advice. We celebrate our clients' successes and are driven by the satisfaction of helping them achieve their immigration goals.
Request for Our Free Consultation
Visa Services AICS Offers in Bangalore for Canada
Studying abroad is a life-changing experience, and AICS Immigration is here to make it possible for you. Our study permit services assist students in securing admissions to reputed educational institutions in various countries. From guiding you through the application process to providing support for visa interviews, we ensure that you have a seamless journey towards pursuing your educational aspirations overseas.
For professionals seeking global career opportunities, our work visa services open doors to exciting job markets worldwide. Our team of experts helps you navigate the complexities of work visa applications, ensuring compliance with immigration regulations and facilitating a smooth transition into your desired work destination.
AICS Immigration specializes in permanent residency applications for multiple countries. Whether you aspire to become a permanent resident in Canada, Australia, New Zealand, or any other country offering immigration pathways, our consultants provide strategic guidance to maximize your chances of a successful outcome.
Family reunification is of utmost importance, and our family sponsorship services help you bring your loved ones together. Whether you're a Canadian citizen or permanent resident looking to sponsor a spouse, children, parents, or other eligible family members, our experts ensure that the process is efficient and smooth.
Investing in a foreign country can be a rewarding venture, and our investor and business visa services are designed to facilitate your entrepreneurial dreams. We offer guidance on investor programs and business immigration pathways, enabling you to capitalize on promising business opportunities abroad.
Planning a trip abroad for tourism, family visits, or attending events is made hassle-free with our visitor visa services. AICS Immigration helps you secure visitor visas, ensuring that you meet all requirements and can travel with confidence.
If you are looking for an immigration consultant in Bangalore that offers comprehensive visa services and values your aspirations, AICS Immigration is your answer. Our experienced consultants, personalized approach, and commitment to excellence make us the go-to choice for individuals and families seeking immigration solutions. Whether its study permits, work visas, family sponsorship, permanent residency, investor visas, or visitor visas, our team is here to guide you at every step. Trust AICS Immigration to make your immigration journey a smooth and successful one. Contact us today at [Contact Information] to take the first step towards a brighter future abroad.
Frequently Asked Questions